Protec Max Alto Saxophone Case Review
Protec makes some amazing cases, but not always at  such an amazing price. To answer the call of budget-conscious consumers, Protec created the MAX line of cases.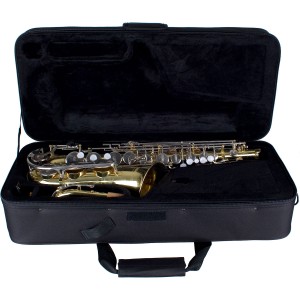 This Protec MAX Alto Saxophone case is available in two flavors. There is a standard rectangular case, and a contoured style. The rectangular case offers abundant storage for music folders, accessories, and more. The contoured case provides much less storage, but is a smaller and lighter package. The rectangular case weighs 6 pounds, while the contoured weighs 4.
Both cases are made from nylon, with an EPS Foam interior to protect the instrument.
The interior is lined in a soft plush lining with molded depressions to secure each piece of the instrument.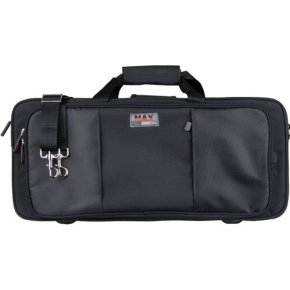 It includes an adjustable shoulder strap, in addition to the padded grips, which also lock together with a velcro closure. There are also hidden backpack straps beneath a flat on the rear of the case.
The MAX cases also feature nice rubber gripped zipper pulls attached to a heavy-duty zipper. Zippers are notoriously problematic on cases, with students often breaking them. At this price point, the zipper is much nicer than many less expensive alternatives, and shouldn't be a problem.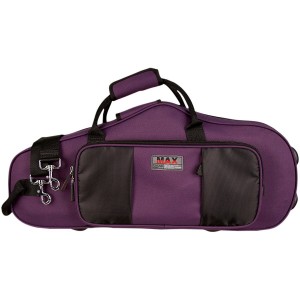 This case makes a great upgrade for most sax players. It's far lighter than most factory cases and offers better protection! If you are an 'on the road' musician and traveling a lot, you'd be wise to spend a little more and upgrade to something from the Protec Pro Pac line.
You can also visit our Youtube channel and see a video review of this product!