The majority of students begin playing in their school band in the 3rd-5th grade. At that time, most parents will opt to either rent an instrument or buy an affordable student model. Many will rent for a year, and then buy a student horn. Generally speaking, a standard or student level instrument (if it is not a complete and total piece of trash — and of course, some of them are – but reputable brands like Yamaha, LJ Hutchen, Conn-Selmer, etc… those are quite reliable as student models) should be reasonable to continue playing on until somewhere between 7th and 8th grade. Side note: a good rule of thumb (with the exception of LJ Hutchen, which is a very reputable line of student instruments) is to buy a student instrument from a brand known for making good intermediate and professional level instruments too. They have a vested interest in making a good impression on you with the student instrument…or else why would you stay loyal to them when you're ready to upgrade to intermediate and professional?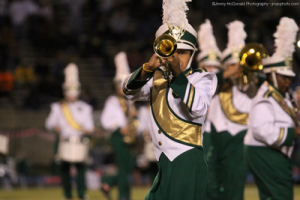 Once a player enters high school, a student level instrument really isn't acceptable in most circumstances.  One notable exception to this rule, in my opinion, is high school marching band or pep band… it's a great idea to use your student level instrument when you are on the marching band field because if it gets a little beaten and bruised, or if it is exposed to some harsh weather conditions, it's not the end of the world. The last thing I would ever recommend is that students bring shiny new intermediate or professional instruments to marching band practice. Save that nice new horn for the band room and non-rugged performance and rehearsal situations.
So…I've mentioned that the start of high school (or a little earlier even) should be the time to mostly retire the student instrument. But what about deciding on what comes next? Should you go with an intermediate "step up" instrument, or should you take the plunge right into the professional instrument pool? Consider the following factors: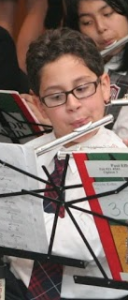 Is this going to last?
I know you don't have a crystal ball (or at least I am assuming not!), but ask yourself (or your child) if you really anticipate playing through your high school career. What about beyond that? I would not recommend purchasing a professional instrument unless there are several more years of performing on the horizon. And this is not to say that you should only buy a professional horn if you are going to become a professional musician, but if there's a relatively decent chance that you'll not make it through your senior year in the school band, it seems ludicrous to spend such a considerable amount of money on an instrument. If you are buying for someone who is playing competitively, studies privately, or has expressed an interest in pursuing music potentially in college or as a profession, it's certainly worth considering a professional model now, rather than in a few years (why buy both?).
Is this going to break the bank?
There are many intermediate instruments that offer the features and components of professional instruments. Really, most intermediate instruments are modeled after professional instruments. With that in mind, understand that you will not be sacrificing anything in terms of the learning experience by opting for an intermediate instrument instead of a professional one. This is a big investment, and you should not just throw caution to the wind without considering your personal budget – after all, for many, college tuition payments are in the foreseeable future as well.
That being said, if you see instrumental music as a lasting pursuit, then you may want to skip over the intermediate model and dive right into pro waters. This is particularly true if you can envision wanting to buy a professional instrument a few years down the road. There isn't a benefit in having an intermediate first, in terms of the learning experience. You aren't going to have an easier time playing an intermediate instrument as compared to playing a professional instrument. Student instruments are generally designed to be conducive to beginner players—so I would not recommend skipping over this level instrument at the onset of learning to play. There are various factors, such as reach and resistance, that are taken into account that can help to make playing a little more easy and accessible to those who are getting started, but this doesn't apply beyond the standard student instrument level.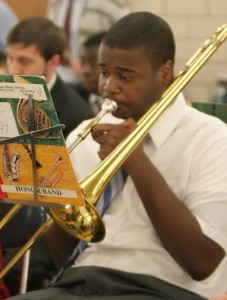 Is this instrument going to be cared for properly?
A professional level instrument is a piece of art. They should be handled with care, and maintained meticulously. If that's not something you think you (or the teenager you are buying an instrument for) will do, I'd recommend not buying a professional instrument. Go with the intermediate model. Professional instruments are made out of top-quality and often delicate materials that need to be cared for regularly to maintain their peak condition. They shouldn't be neglected. They are just too valuable. Intermediate instruments should be maintained carefully also, but you don't want to invest in a professional instrument unless it's going to be cared for properly.
Take a look at Some of Paul Effman Music Store's Intermediate and Professional Instrument Offerings by Clicking on a Link Below:
INTERMEDIATE FLUTES
PROFESSIONAL FLUTES
INTERMEDIATE CLARINETS
PROFESSIONAL CLARINETS
INTERMEDIATE ALTO SAXOPHONES
PROFESSIONAL ALTO SAXOPHONES
INTERMEDIATE TRUMPETS
PROFESSIONAL TRUMPETS
INTERMEDIATE TROMBONES
PROFESSIONAL TROMBONES