Protec makes some amazing cases, but not always such an amazing price. To answer the call of budget conscious consumers, Protec created the MAX line of cases.
The MAX line for trumpet offers two different style cases. There is a traditional rectangular case, in addition to the contoured gig-bag style case.
The contoured style case is currently available in black or camo, while the rectangular case is available in black or blue. The rectangular case is 5lbs and has plenty of storage. The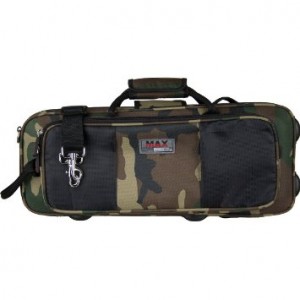 contoured case sacrifices storage for lighter weight, weighing in only at three and a half pounds.
It's a very light case made from nylon, with an EPS Foam interior to protect the instrument.
The interiors are lined in a soft plush material, and includes two mouthpiece holders, as well as two accessory compartments in the rectangular case. The contoured case only has one mouthpiece holder, but with the outside accessory compartment you can easily store another mouthpiece in the case.
They both include an adjustable shoulder strap, in addition to the padded grips, which also lock together with a velcro closure. The contoured style case includes backpack straps, hidden behind a panel. There are also nice rubber feet on the bottom of the cases so they won't get scuffed up when setting it down.
Trumpet players are often denied any additional storage or pockets on with their factory cases. Fortunately, when upgrading to the Max case you will get a nice zipper pocket that covers the entire span of the case.
The MAX cases also feature nice rubber gripped zipper pulls attached to a heavy-duty zipper. Zippers are notoriously difficult on cases, with students often breaking them, at this price point the zipper is much nicer than many less expensive alternatives – so this should not be a problem.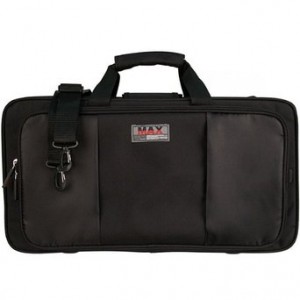 This case makes a great upgrade for any trumpet player. It's far lighter than most factory cases and offers better protection! If you are an 'on-the-road' musician and travel often, you should consider spending some more and upgrading to a Protec ProPac case.
Please visit our YouTube channel for a video review!