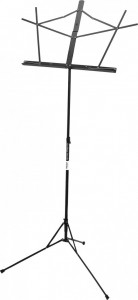 A music stand is a must-have item for every student musician. The use of a music stand promotes good posture, a critical component to effective practice sessions. Your child's school band director or private teacher will certainly expect and encourage every student to own their own music stand. There are numerous varieties to choose from, so the process of selecting the right music stand for your band student can be a bit daunting. Your best bet if you are looking for something affordable and portable is a folding music stand. Our top product pick in this category is the OnStage Folding Music Stand & Case. OnStage makes a variety of music accessories and stands, and they are a trusted and reliable brand that delivers excellent products to consumers. Hyson Music is proud to carry an extensive collection of their products. Click HERE to see all of Hyson Music's OnStage inventory.
A folding stand is a good option for students because it will accommodate their needs without taxing your budget. They will be able to transport it easily, and the OnStage Folding Music Stand & Case makes transport even convenient by including a small and durable case. The OnStage Folding Music Stand folds up and fits perfectly inside the carrying case. Even for small, young students, this music stand and case combo will be easy to travel with because it is very lightweight. It is also simple to assemble and disassemble, and both of these processes can be done very quickly. The OnStage Music Stand & Case can be purchased in black or a variety of vibrant colors, making it all the more popular with students. The OnStage Folding Music Stand is functional for playing and practicing while seated or standing, as its height is easily adjustable.
One of the only downsides to a folding stand, in fact, is its light weight. This can become a problem when students have lots of heavier music folders and materials that they want to keep on their music stand, generally for at-home practice sessions. It is still ideal to own a folding stand for its compact nature and easy portability, but when a sturdier, more stable stand is desired for a band student's changing needs, a non-folding stand is a wise purchase. While these stands are more expensive, they are also very long-lasting. Take a look at Hyson's large selection of folding and non-folding music stands by clicking HERE.